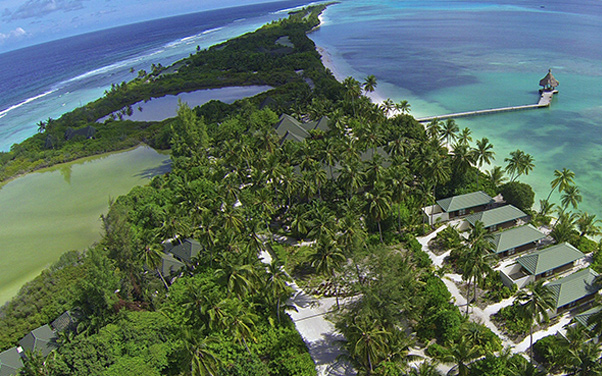 The picturesque Canareef Resort Maldives, a 271 villa resort that showcases the best that the nation has to offer, is located in the southernmost atoll of the Maldives. The longest island resort in the nation, the island is 4.5 kilometers long. Take advantage of the many activities the resort has to offer. Go below, explore our 25 distinct dive sites, and see dolphins all year long. Let go of your self-consciousness and 'Step Out of The Blue' with us. For your honeymoon, friends, or family, Canareef Resort Maldives welcomes you with 271 roomy accommodations. Each home is exquisite in nature and created so that visitors may take in the rich island greenery. There are 81 Sunrise Villas in our collection.
The Dhoni Bar –  The ideal location to watch the sun set while sipping on your preferred beverage from our extensive menu of drinks. Enjoy 'live' entertainment throughout the evening, including a crab race, a local Boduberu, and a DJ playing your favorite pop songs. Enjoy your favorite bar beverage while you dance the night away with your loved one, family, or friends.
The Kilhi – On our daily buffet spread and à la carte menu, you'll find a tantalizing selection of delectable, international cuisines from all over the world, including French, Sri Lankan, and native Maldivian delights that are sure to satisfy our guests' voracious appetites. Book a private dinner facing the Laccadive Sea if you're in the mood for romance and spend the evening dining while listening to the waves.
The dolphins of the Maldives, including spinners, bottle-nosed dolphins, and pilot whales, can be spotted in the waters close to our island.
Our island's main attraction would be an encounter unlike any other.
While watching the sunset, explore our island in quest of these wild but incredibly amiable dolphins.Watch them perform for you while playing in the water and be amazed.
This tour is a definite must-book since it is the most exciting and touching thing you can do in the Maldives, and it will leave you with lifelong memories.